Why do you feed the birds?
Is it that wonderful moment of nature that you experience every time you glance out the windows at your feeders? Is it the true sense of peace that goes along with that little moment?
Maybe it is your heightened awareness of the shifting circle of the seasons, brought home by the changing birds and behaviors you see at your feeders.
How about the joy you experience when introducing children to the world of nature through the abundant and beautiful birds in your yard?
Or is it the satisfaction you feel as birds flock to your feeders during severe weather, and knowing that you are actually helping them to survive another day?
At this special time of the year, the delight of seeing so many active and energetic birds at your feeders, combined with the knowledge that you are having a positive impact on the quality of their lives, makes feeding birds a true joy.
And this joy is available to everyone. By providing just a few simple things, such as nutritious foods, clean water, and ample shelter, birds can quickly become valuable assets. Not a cash asset…but a spiritual asset that can reward anyone with many priceless hours of happiness and enjoyment.
Bird feeding is a joyful hobby…and it should be shared with those you love. Never discount the impact it can have in bringing people and nature together for the benefit of both.
We invite you to visit our store for the best seed, best feeders, best nature gifts, and the best advice in town to help you introduce this wonderful hobby to your friends and family!
As we celebrate this special season, we invite you to bring nature home for the holidays and thank you for continuing to support our store, nature, and wildlife. We wish you and your family a wonderful and healthy holiday season!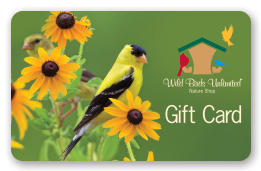 The Perfect Gift for Every Nature Lover
Every nature lover is different, so finding the ideal gift for them can be difficult. That's why our Gift Cards are the perfect gift for every occasion. They allow your friend or loved one to choose what part of nature he or she wants to enjoy. The best part: our Gift Cards are redeemable at every Wild Birds Unlimited location.
Our store Is open regular hours for in-store shopping
We also offer curbside pick-up and delivery. Call 309-454-3455.
Curbside Pick-Up Service: Easy as 1-2-3!
Place your order by calling us at (309) 454-3455.
Come to the store and let us know when you arrive by calling (309) 454-3455. Then pop open your trunk and wait in your car.
We'll bring your order to your car and place it in the trunk. No personal contact required! (But we can still smile and wave.)
Please visit our website to see more of what we offer. We are currently not an online shopping store. So if you see something you like please call us to order over the phone.