1520 E. College Ave.
Normal, IL 61761
Across from College Hill Plaza

(309) 454-3455
Open Today Until 6:00 pm
| | |
| --- | --- |
| Monday | 10:00 am - 6:00 pm |
| Tuesday | 10:00 am - 6:00 pm |
| Wednesday | 10:00 am - 6:00 pm |
| Thursday | 10:00 am - 6:00 pm |
| Friday | 10:00 am - 6:00 pm |
| Saturday | 9:00 am - 5:00 pm |
| Sunday | 12:00 pm - 4:00 pm |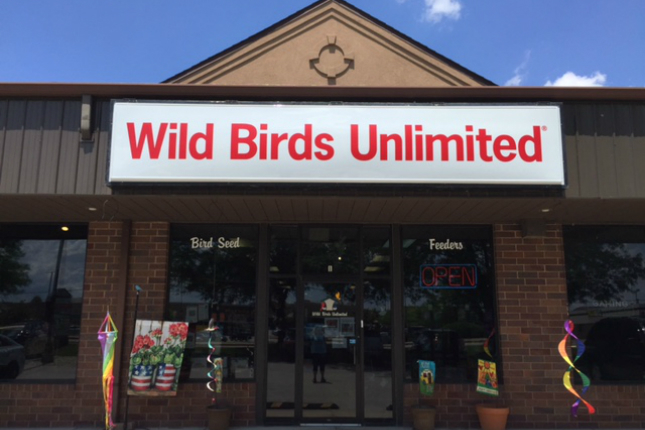 Kim Ryburn Franchise Store Owner
View Our Store Site
Fall Bird Food Sale

Offer a Variety of Foods to Attract More Birds!
WBU Seed Blends: We offer a variety of seed blends regionally-formulated for the birds in our area. Our blends contain no fillers - just foods your birds will love!
No-Mess Cylinder: Birds will flock to this tidy food option. Our No-Mess Cylinder includes sunflower chips, peanuts, tree nuts, and cherries.
Bark Butter: No bird food attracts more species of birds than Jim's Birdacious® Bark Butter®, a spreadable suet that can be easily smeared on tree bark or a Bark Butter Feeder.
Hot Pepper No-Melt Suet Cylinder: A wide variety of birds will enjoy dining on our Hot Pepper No-Melt Suet Cylinder. Squirrels - not so much.
15% OFF All Bird Food*
Daily Savings Club Members: Don't forget you save 5% off sale prices.
Free WBU 2019 Calendar with a $30 purchase while supplies last.

*Valid only at the Normal, IL store. One discount per purchase. Offer not valid on previous purchases or sale items. Offer valid in-store only 10/01/2018 thru 10/14/2018.
October Events
October 7
Maori Wisdom of Papatuanuku
I am very honoured to have Maikara Ropata join us for an afternoon of sharing her Culture, her Waitaha (songs), her knowledge, and her love of Papatuanuku (Mother Earth). For all of you who know of my partner Kerry Strongman, Maikara is his cousin. She is from Waiheke Island New Zealand.
Come spend some time and learn of birds and nature of another land from a beautiful gifted Wisdom Keeper. We will start at 4:30 pm and finish around 6:30 pm. Please RSVP so we can have enough chairs.
October 13
Fall and Winter Birds and Feeding with Deanna Frautschi
Join Deanna Frautschi on Saturday, October 13 at 9 am-10 am for our Fall and Winter Birds and Feeding Seminar. Learn about what to feed the birds during this time and why. What shelter and water do they need, etc? Dee will be sharing lots of her beautiful photos with us as well.
Please RSVP to reserve a seat. 309-454-3455
October 24
Fall Teacher Appreciation Day
15% OFF Entire Purchase and a Free 2# bag of Deluxe Blend
October 31
Halloween Costume and Candy Spooktacular
20% OFF Entire Purchase Plus Treats for the Customer